Even when our homes are clean, it is very important to keep fresh air and beautiful scents, because they give us a feeling of clean, fresh, and they also relax us make us peaceful…
Because of this, we all used various air fresheners as candles, plugins and ocean breeze-scented sprays, which sometime are very expensive, with dubious origin, and are not very healthy for us.
Today we want to rely in nature aromas, which is healthier, and better for the environment and the budget. So we recommend you 9 natural air fresheners, hopping that you will be inspirited and use some of the ideas, and will keep your home smelling fresh and beautiful, and you will take a breath of fresh air.
1.Orange peel candle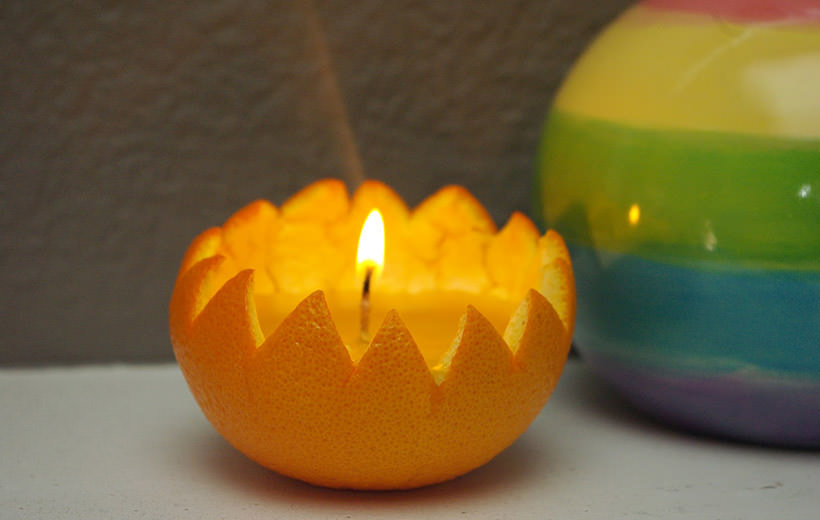 Get your daily vitamin C and give your home a refreshing scent. You can use any citrus you like, and different oil, and you can experiment and enjoying in various scents. This project is easy and, inexpensive. Al you need is orange, or any citrus you like, knife, and some type of oil.  You have lot of tutorials around, and you can make candles with various designs.
2.Lemon and rosemary simmer jar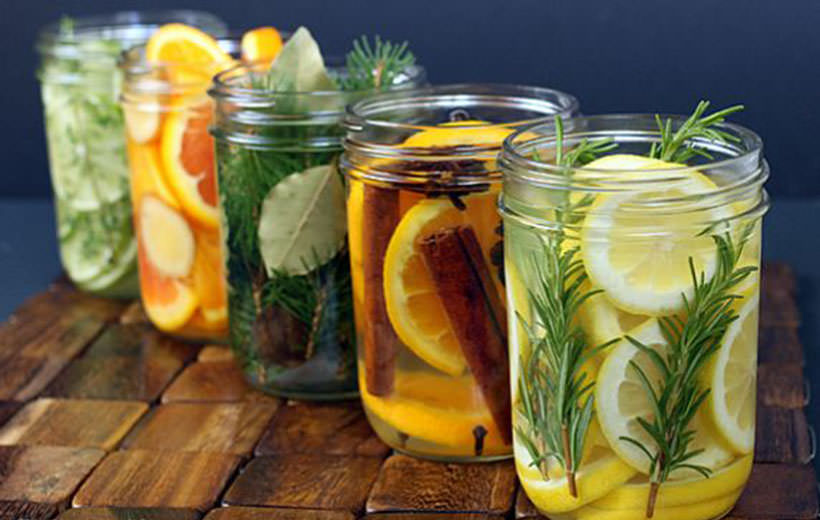 All you need is only jar, lemon, rosemary and if you want add some vanilla or cinnamon, and you have a set to simmer all day will make your whole house smell amazing. Of course you can use various citrus, and add some oil if you want… Now it is time for relaxing, reading some book or wait for your company coming.
3.DIY reed diffuser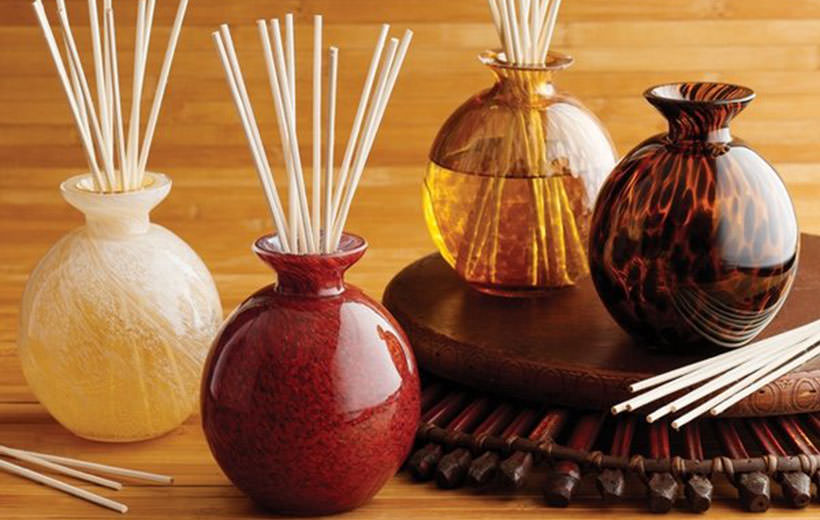 Create your own custom bamboo diffuser at home. It looks beautiful in any room and adds a subtle touch of scent. All you need is glass or ceramic container, essential oils of your choice, reeds or bamboo skewers. You can experiment with different essential oil combinations until you find one or two you really like. Enjoy …
4.Cinnamon stick candle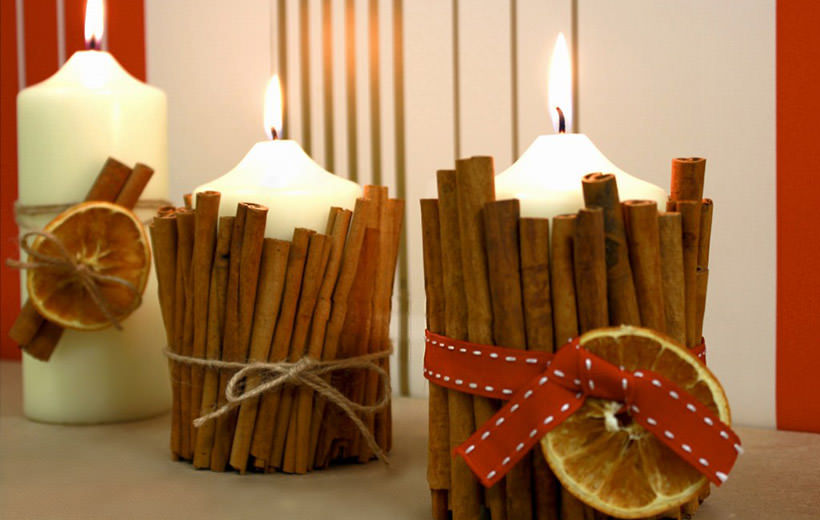 Add some cinnamon sticks to your unscented candles for a spicy and sweet scent. You can use orange or lemon rinds and peels to a boil, and cloves, and enjoy the scent it sends through your home…You need candle, cinnamon sticks, some citrus, and bowl for decorations… It's easy to make this great decorative centerpiece.
5.Gel air freshener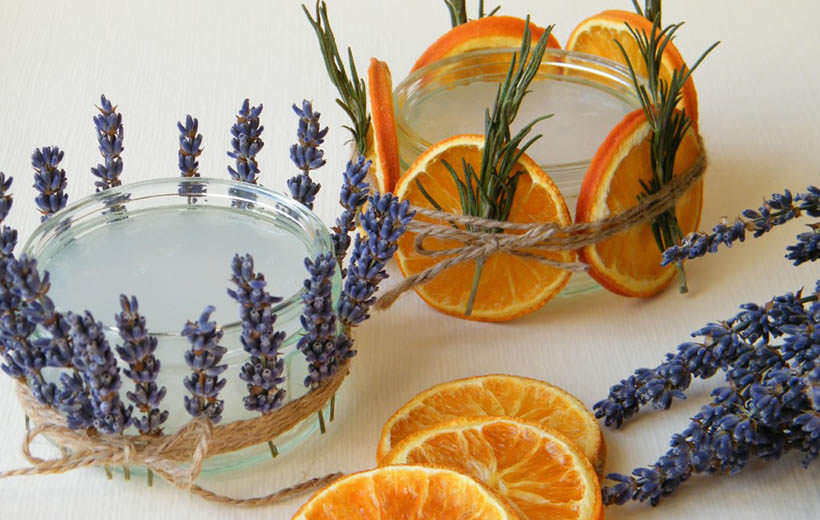 We find two different methods for making gel air fresheners at home, with water and essential oils, or with liquid potpourri. Water and essential oils will give you an all-natural air freshener, and the scent combinations are virtually endless! Liquid potpourri can be purchased next to scented, orange or maybe cinnamon candles, and you get few different scents. They are inexpensive nontoxic, and, of course smell great.
6.Pouch air freshener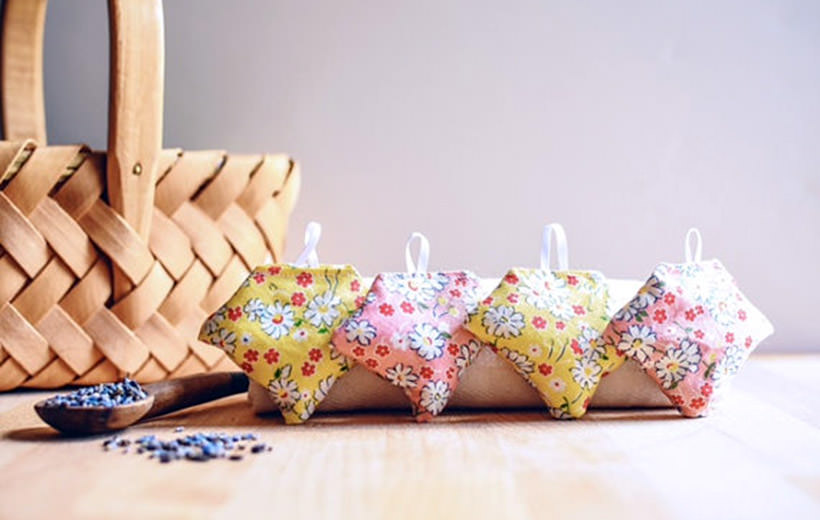 We chose small sachets or pouches of scent for a small rooms, closets or for your car. The most difficult part will be sewing the little pouches, but it's still not hard, you just need little time and patience. Then add scents in your pouches, pour in spices, incense cones, and oil soaked makeup pads or cotton balls. And that is all… you have little sweet decorative pouch air fresheners.
7.Homemade potpourri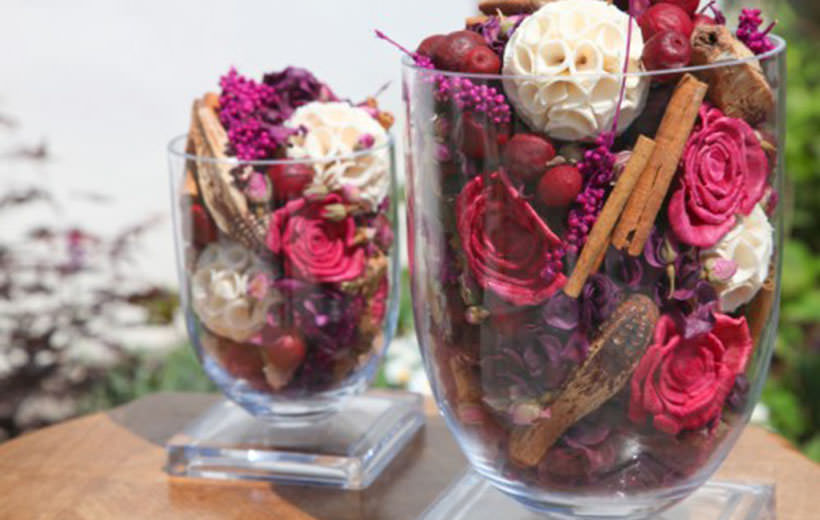 There are many recipes to make natural homemade potpourri. You can use dried flowers, orange peel, juniper berries, sandalwood and essential oils. Than you can combine the ingredients for a fully customizes potpourri bowl which scents are magic, and everyone love them.
8.Ground coffee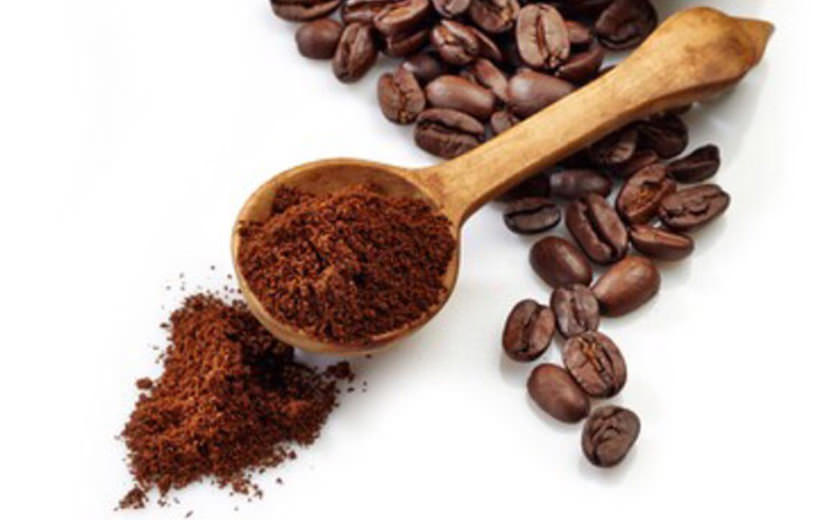 Use coffee grounds as an air freshener, let them dry before transferring to a bowl… Of course for coffee scent you have to be a coffee drinker or just to adore coffee scent… If you don't, this is not for you, but you still can try other 8 recopies and ideas…
9.Baking soda and essential oils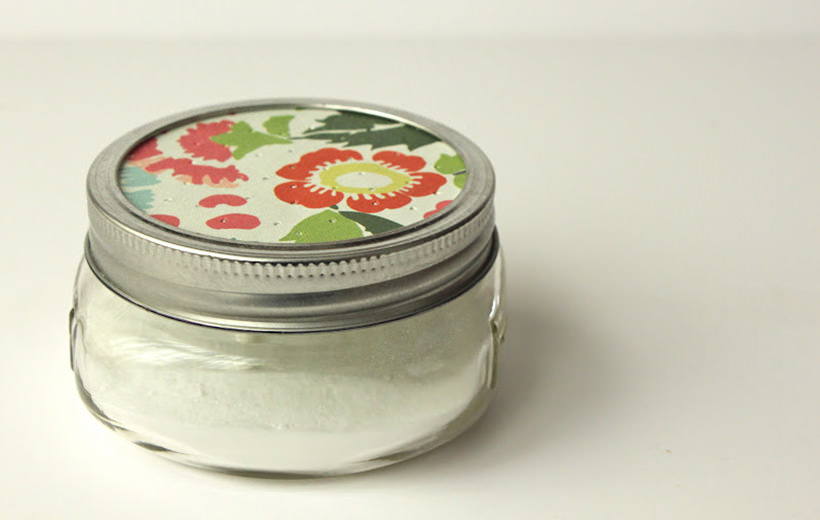 You can combine baking soda and essential oils in a small jar to make a natural air freshener for two reasons, and it is ready and easy to use… You just need to mix soda with oil and to shake it time to time.. They are very decorative, and great for gift.
And idea plus, if you want to deodorize your home, dissolve one-eighth of a cup of baking soda in two cups hot water and a half-cup of lemon juice and you have instant air freshener.
And for the end, making meals, cookies and various smells of tea and drinks, is another way to keep good sweet smells in your home, so when you have a little time, make a sweet and delicious air  fresheners that you can taste… Make your choice, and don't forget, keep everything natural and enjoy…